Trump's First Campaign Manager Allegedly Bragged About Murdering People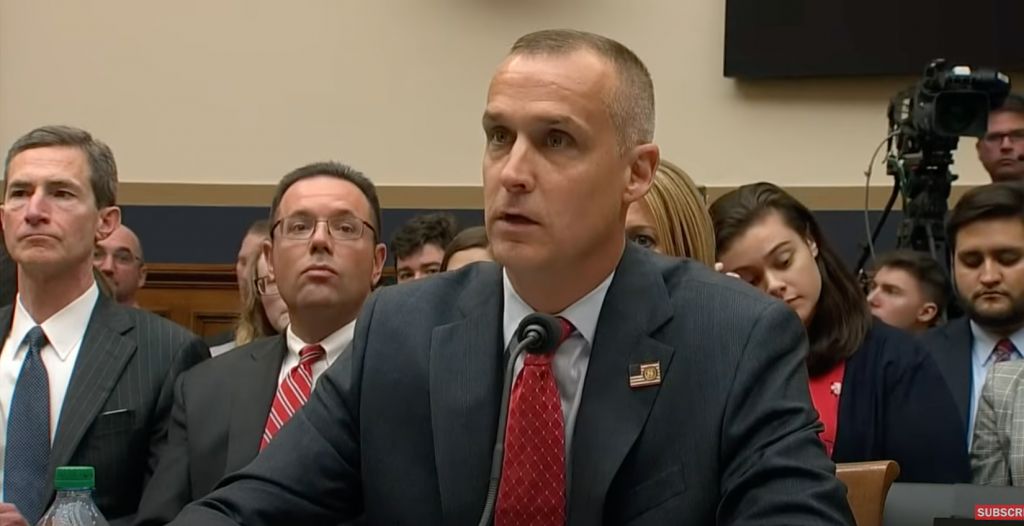 Summary
A 2021 Las Vegas charity event became the stage for a disturbing interaction between Trump's first campaign manager, Corey Lewandowski, and Trump supporter and donor Trashelle Odom.
Lewandowski allegedly boasted to Trashelle that he "stabbed a man in the back of the head and killed him."
This isn't the first time allegations of inappropriate behavior have been aimed at Lewandowski; his history is laden with accusations.
In the aftermath, John and Trashelle Odom, both Trump supporters and GOP donors, came forward, with Trashelle filing a police report about Lewandowski's behavior
Corey Lewandowski's Alleged Actions
In 2021, Trashelle Odom, the spouse of Idaho construction magnate John Odom, accused Corey Lewandowski, a former top aide to President Donald Trump, of making unwanted advances at her during a Las Vegas charity dinner. Odom alleges that throughout the night, Lewandowski persistently touched her, including on her leg and buttocks, and spoke to her in sexually explicit terms. She went on to describe his behavior as "stalking" her.
The dinner, hosted by Victoria's Voice Foundation, a charity focused on fighting substance abuse, saw Odom seated next to Lewandowski. Also present at the event was South Dakota Gov. Kristi Noem, an informal advisee of Lewandowski.
According to a statement provided by Odom's attorney, Lewandowski's advances became increasingly bold as the evening progressed. From attempts to hold her hand and touching her leg, to grabbing her napkin in an attempt to make further contact. These advances were consistently rebuffed by Odom. Lewandowski's remarks and actions grew more explicit and offensive as the night wore on.
In a statement to POLITICO, Odom recounted her distressing experience: "He repeatedly touched me inappropriately, said vile and disgusting things to me, stalked me, and made me feel violated and fearful." Odom emphasizes her reason for coming forward, stating, "I am blessed to have a loving husband and family behind me. I want other women to know that you can be heard, too, and together we can stop terrible things like this from happening."
An attendee recounted Odom's detailed description of the evening, highlighting her growing fear of Lewandowski as he shared instances of violence from his past. Odom, new to the Republican donor scene, also shared Lewandowski's claims of significant influence over Trump's circle, asserting no endorsement from Trump comes without his say-so.
The statement from Odom's attorney further claimed that Lewandowski flaunted his power, threatening he could "destroy anyone," citing his proximity to Trump.
"Corey was verbally and physically aggressive and forceful," Odom asserted in her statement, "I was fearful for my physical safety."
Witnesses at the dinner mentioned Odom's evident discomfort and also claimed Lewandowski appeared intoxicated. Photos from the event depict Odom in selfies with attendees, with Lewandowski notably in the background, often making inappropriate faces.
According to police reports obtained by the Daily Mail, Odom also alleges that Lewandowski boasted about violent acts from his past, including claims that he had "stabbed a man in the back of the head and killed him."
Initially, Odom assumed Lewandowski was merely joking about these violent episodes. However, as the night progressed, his demeanor suggested otherwise.
The police records also describe Lewandowski bragging about his physical prowess, asserting he "works out twice a day, runs 400 miles a week," and making graphic comments about his stamina in bed.
Odom detailed further unsettling statements by Lewandowski, who reportedly boasted about the size of his genitalia. More disturbingly, she claims Lewandowski confided in her about having killed at least two people in his life.
In response, David Chesnoff, Lewandowski's Las Vegas attorney, did not address the allegations directly but stated that "Accusations and rumors appear to be morphing by the minute and we will not dignify them with a further response."
In light of the accusations, Trump spokesperson Taylor Budowich tweeted that Lewandowski would no longer be associated with "Trump World" and his responsibilities would be handed over to Pam Bondi, former Attorney General of Florida.
John Odom, Trashelle's husband, issued a statement expressing his distress over Lewandowski's "violent, harassing, and traumatizing" actions. He further expressed gratitude towards the Trump team for their "swift and decisive action" in the wake of these revelations.
Previous Allegations Against Lewandowski
Corey Lewandowski's position in the Trump campaign was once significant. However, his past and present are intertwined with allegations that often leave many unsettled. Multiple women, as highlighted by The Bulwark and Politico, have come forward with claims against Lewandowski, alluding to a pattern that seems recurrent.
In 2017, singer Joy Villa filed a police report in which she alleged that Lewandowski slapped her buttocks during a holiday party at the Trump International Hotel in Washington, D.C.
An earlier incident from 2016 saw Lewandowski charged with battery after he was seen pulling the arm of a reporter, Michelle Fields, during a Trump event. Although the charges were later dropped, Lewandowski vehemently denied that the incident ever occurred. However, video footage later surfaced, confirming Fields' account of the event.
Despite these prior incidents and allegations, Lewandowski continued to play a role in Trump's orbit.
More About The Dinner
According to a police report obtained by DailyMail.com, Odom was personally invited to the dinner with South Dakota Gov. Kristi Noem by American socialite Jackie Siegel.
Odom told Idaho police that Lewandowski bragged about the size of his genitals and proceeded to touch her multiple times without her consent, including instances where he tried to hold her hand, played with her hand using his pinky, and even touched her leg.
When she tried to leave the dinner, Lewandowski allegedly followed her, making inappropriate comments about her appearance.
Odom stated, "While descending the stairs, Lewandowski repeatedly commented, 'Nice a**' to me." This escalating behavior reached its peak when Lewandowski, apparently frustrated with Odom's rebuffs, threw his drink at her.
The Daily Beast reported that Lewandowski, presumably intoxicated, attempted to contact John Odom, an act that left many speculating his intent.
Bibliography