Ron DeSantis Faces Multiple Investigations Over Mistreatment Of Asylum Seekers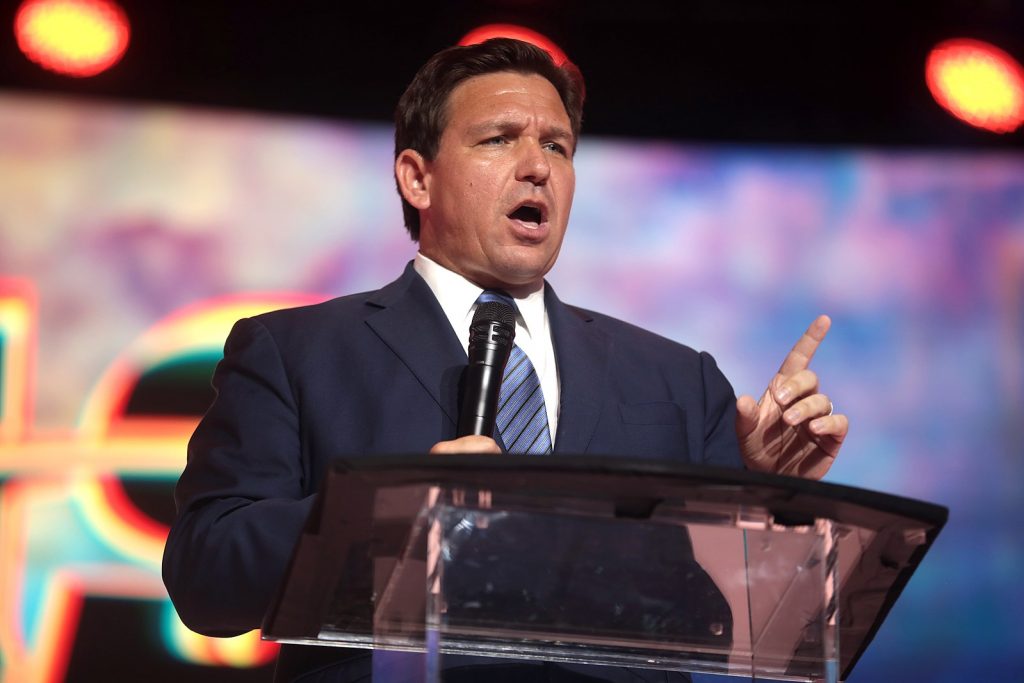 Summary:
Massachusetts District Attorney Robert Galibois announced an investigation into Florida Governor Ron DeSantis' controversial decision to send flights filled with migrants to Martha's Vineyard.
Florida Governor Ron DeSantis is under scrutiny for his policy of transporting asylum seekers to various parts of the U.S. under misleading pretenses, drawing investigations from a Massachusetts district attorney, a Texas sheriff, and the state of California.
Perla Huerta, a key figure implicated in the scheme, is accused of recruiting migrants under false pretenses, promising aid that was never delivered.
A class action lawsuit accuses individuals associated with DeSantis of false promises of employment and humanitarian aid to the migrants.
DeSantis is due to appear on Cape Cod for a fundraiser, just as the announcement of the investigation is made.
Florida Governor Ron DeSantis contracted Vertol Systems, Inc., an aviation firm, to transport Venezuelan migrants to Martha's Vineyard, a move that sparked controversy.
Vertol Systems has significant ties to the Republican party, having contributed to various Republican campaigns, including DeSantis's.
State Representative Jay Trumbull Jr., a key figure in the Florida legislature, received a donation from Vertol Systems for his state Senate bid.
Jay Trumbull Sr., Trumbull Jr.'s father, was appointed by DeSantis to the Florida Transportation Commission and is a strong supporter of the Governor.
Vertol's CEO, James Montgomerie, has also contributed to several Republican campaigns in Florida, demonstrating the deep ties between the company and the state's Republican party.
The Massachusetts Investigation into Migrant Flights
In the wake of a controversial move by Florida Governor Ron DeSantis, Cape & Islands District Attorney Robert Galibois has announced an investigation into the circumstances surrounding a series of flights filled with migrants landing on Martha's Vineyard. The move by DeSantis, as part of the state's relocation program, has stirred up much debate, with critics calling it a "cruel stunt."
"I am conscious of my obligation to investigate any potentially criminal activity that occurs within my jurisdiction," Galibois said in a statement. As the top law enforcement official for the region, Galibois believes that the responsibility falls to him to examine this unusual incident, especially given the fact that many of the immigrants were reportedly deceived into boarding the planes that eventually landed in his jurisdiction.
However, the investigation is not without its challenges. The information needed to complete the investigation is not entirely within Galibois' jurisdiction. Therefore, he has thrown his support behind public officials from California and Texas, who are calling for a federal investigation into the flights. "In order for a full and proper investigation to occur, the Department of Justice must be involved," Galibois insisted, standing ready to cooperate with federal agencies.
In fact, two planes filled with undocumented immigrants landed on Martha's Vineyard in September, causing a scramble to prepare emergency shelters to help them. In a class action lawsuit, migrants claimed they were promised jobs, housing, and educational opportunities if they agreed to board flights to other states. However, they were dropped off on Martha's Vineyard without provisions, and these promises have yet to be fulfilled.
DeSantis Turns Cruelty Into Policy
The controversy surrounding Governor DeSantis goes beyond just the migrant flights. As a contender for the 2024 Republican presidential nomination, DeSantis has been in the spotlight for several of his policies, particularly his immigration stance. However, his decision to transport migrants to perceived liberal states, in particular, has drawn significant backlash.
In an unprecedented move, DeSantis directed the transportation of about 50 South American migrants to Martha's Vineyard Airport in September. According to a DeSantis spokesperson, this action was part of the Governor's "promise to drop off undocumented migrants in progressive states." This policy, which the Governor's office has defended as a relocation program, has drawn sharp criticism from public officials and legal experts alike.
Democratic State Representative Dylan Fernandes, who represents Martha's Vineyard as well as Nantucket and Falmouth, had harsh words for the Governor. "Ron DeSantis is a coward, and he's shameless, so it's unsurprising that he's back here with his hand out," Fernandes remarked, adding, "But it's going to go to complete waste because America's better than him. And we won't elect him."
The criticisms extend beyond the political realm. A class action lawsuit brought by the migrants alleges that unidentified individuals working with DeSantis tricked them into boarding planes under false pretenses. These promises included employment, housing, and other forms of assistance that have not materialized.
As the investigation in Massachusetts begins, the controversy surrounding DeSantis's migrant policy is far from over. With calls for a federal investigation and growing public scrutiny, the coming weeks and months promise to be a rigorous test of the Florida Governor's actions.
Perla Huerta
In the midst of a divisive political climate, Florida Governor Ron DeSantis implemented a policy that used cunning, deceit, and duplicity to displace migrants across state lines. A critical player in this ploy was a woman named Perla Huerta, whose alleged involvement has caught the attention of legal authorities.
Huerta, a former U.S. Army combat medic and counterintelligence agent, stands accused of duping migrants with false promises of job assistance and help with their immigration cases. The lure was compelling enough to encourage their participation in the transportation scheme. Huerta reportedly gathered approximately 50 migrants, who she had previously recruited, and in return for their signed consent to be transported, she gave them a $10 McDonald's gift card.
Once onboard the charter planes, the mostly Venezuelan migrants were provided brochures detailing social service organizations. However, the bitter irony was that they were not eligible to receive services from any of these listed organizations. This discovery led to feelings of helplessness, confusion, and anxiety among the migrants.
The lawsuit suggests that once the migrants landed on Martha's Vineyard, they were left in the lurch. Reaching out to Huerta for help resulted in a cold shoulder; their pleas were ignored or dismissed. The allegations against Huerta paint a picture of manipulation and betrayal, making her a key figure in the controversial policy instigated by Governor DeSantis.
Ongoing Investigations
In response to the allegations of underhanded tactics and false promises, Governor DeSantis's administration has attracted scrutiny from a Massachusetts district attorney, a Texas sheriff, and the state of California. They are investigating whether DeSantis, his chief of staff James Uthmeier, Florida's public safety advisor Lawrence Keefe, and Huerta deceived migrants and manipulated them into participating in this scheme.
The Massachusetts district attorney, the Texas sheriff, and the California state officials are delving into the circumstances that led to the mass transportation of migrants to different parts of the country. They seek to determine whether these individuals were indeed coerced into travel through fraud and misrepresentation. This investigation isn't merely a state matter; these jurisdictions have called for federal intervention, reinforcing the gravity of the situation.
Overlapping Interests: Vertol Systems, DeSantis, and Florida's GOP
As we unravel the web of connections between Governor Ron DeSantis, Vertol Systems, Inc., and Florida's Republicans, a striking pattern of financial and personal ties emerges, highlighting the intertwining political and corporate alliances within Florida's Republican power structure.
Governor DeSantis hired Vertol Systems, an aviation firm, to facilitate his controversial migrant relocation program. The firm received $615,000 to transport 48 Venezuelan migrants from Texas to Martha's Vineyard, an affluent vacation destination in Massachusetts. This operation was part of a larger, $12 million program funded through Covid-19 relief aid, designated by the Florida state legislature for migrant relocation.
Vertol Systems, founded in Oregon, is a company with a history of contributions to Republican causes. The firm and its president have donated exclusively to Republican campaigns in Florida, including significant contributions to DeSantis. Vertol Systems has proven itself to be a prominent ally and financial backer of the Republican party in the state, suggesting an entwined relationship of mutual interests.
An instrumental figure in this network is State Representative Jay Trumbull Jr., who chairs the appropriations committee that allocated the Covid-19 relief funding for the migrant relocation program. Described by DeSantis as a "strong ally for my agenda in the Legislature," Trumbull Jr. has also benefitted from Vertol's generosity. Campaign finance records show that he accepted a $1,000 donation from Vertol Systems for his current state Senate bid.
Trumbull Jr.'s father, Jay Trumbull Sr., further deepens the connection between the DeSantis administration and Vertol. Trumbull Sr. was appointed by DeSantis to the Florida Transportation Commission, an entity responsible for major transportation policy recommendations and overseeing the state agency that contracted the planes for the migrant relocation program. Additionally, he is a significant supporter of DeSantis, with his company, Trumbull Water Services of Northwest Florida, donating $10,000 to Friends of Ron DeSantis, a political action committee backing the governor.
At the helm of Vertol Systems is President and CEO James Montgomerie, a contributor to several Republican campaigns in Florida. Montgomerie's political contributions have included a maximum donation of $2,700 to Matt Gaetz in 2016 when he was a state representative running for U.S. Congress, and $5,000 to North Florida Neighbors in 2017. His actions illustrate the company's ongoing alignment with the Republican party.
The culmination of these connections presents a complex network of financial support and mutual benefit between Governor DeSantis, Vertol Systems, and key figures within Florida's Republican party.
As these relationships continue to come under scrutiny in light of the controversial migrant relocation program, it is essential to consider their potential influence and ramifications within Florida's political landscape. The close ties between corporate entities like Vertol Systems and Florida's Republican administration underline the often intricate relationship between politics, power, and corporate interests.
For additional reading:
NBC Boston: Link
Florida Politics: Link
The New York Times: Link
Politico: Link
The Texas Tribune: Link
ABC Action News: Link
The Intercept: Link
The Texas Tribune: Link