Getting Closer To 'One Person, One Vote': A Review of Democracy Reform Bills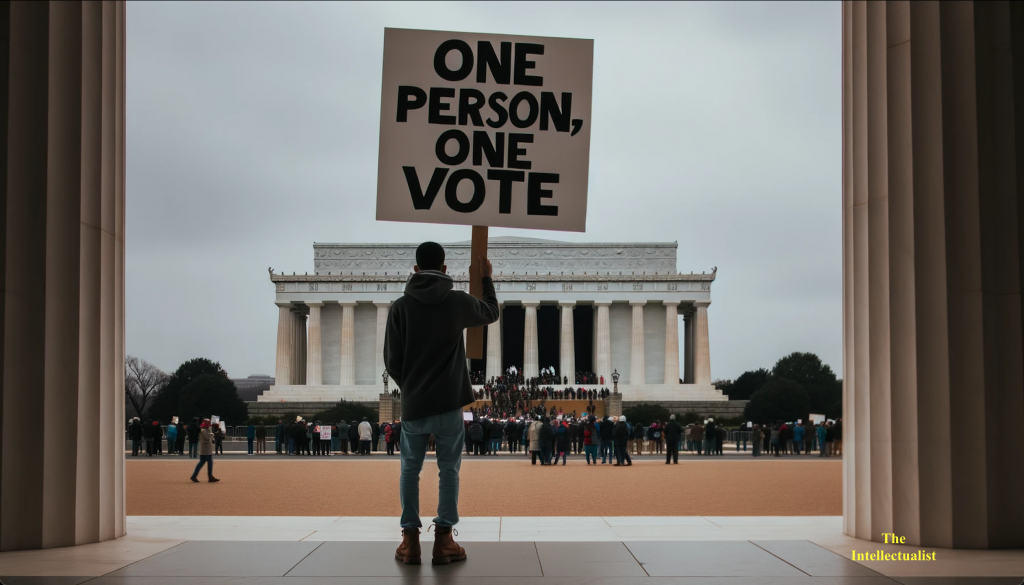 Democracy, often touted as the cornerstone of modern civil society, is not static; it evolves, adapts, and requires constant nurturing.
Amid rising polarization, voter disenfranchisement, and murky campaign finances, several bills aim to address the gaps and challenges in the United States' democratic process.
In this piece, we'll delve into some of the most critical democracy reform bills proposed in recent times—each addressing specific facets of governance—and explore how they work in synergy to protect and enhance American democracy.
Democracy Reform Bills
Reimagining Representative Democracy: The Fair Representation Act
The Fair Representation Act aspires to address the two-party system's limitations by ensuring more proportional representation. The reforms include:
Ranked Choice Voting (RCV): Allowing voters to rank candidates by preference, redistributing votes if no candidate achieves a majority.
Multi-member Districts: States with more than one Representative would create multi-member districts for better proportional representation.
Independent Redistricting Commissions: These commissions would counter gerrymandering, thereby establishing fair electoral boundaries.
Lifting the Veil: The DISCLOSE Act
Aiming for transparency in political spending, the DISCLOSE Act includes provisions for:
Mandatory Disclosure: Entities must disclose significant contributions and expenditures.
Real-Time Reporting: Timely disclosure of large donations.
Stand By Your Ad Provision: Disclaimers identifying funding sources in political ads.
Safeguarding Voting Rights: John R. Lewis Voting Rights Advancement Act (VRAA)
Named after civil rights icon John Lewis, the VRAA seeks to reinstate robust voting rights protections by:
Reinstating Pre-clearance Requirements: Mandating federal approval for changes to voting laws in specific jurisdictions.
Updated Geographic Coverage Formula: Modernizing which localities need pre-clearance based on contemporary data.
Enhanced Transparency: Public notices for changes in voting procedures.
Checks and Balances: Protecting Our Democracy Act
This Act focuses on restricting potential abuses of executive authority by:
Fortifying the Federal Workforce: Ensuring the impartial functioning of federal agencies.
Insulation of the Justice Department: Safeguarding the institution from political interference.
Enhanced Congressional Oversight: Strengthening the enforcement of Congressional subpoenas.
Enabling Fair Elections: Freedom to Vote Act
The Freedom to Vote Act encompasses:
National Standards for Federal Elections: Harmonizing electoral rules across states.
Promotion of Voter Access: Encouraging voter registration and facilitating voting processes.
Streamlining Procedures: Electoral Count Reform and Presidential Transition Improvement Act
This Act modernizes the Electoral Count Act of 1887 by providing clearer procedures for electoral vote counting and establishing guidelines for a smooth presidential transition.
Synergistic Impact of the Bills
The Presidency:
Accountability and Transparency: The Protecting Our Democracy Act enhances accountability, while the Electoral Count Reform Act ensures more transparent electoral processes.
The House & Senate:
Representation and Voting Practices: The Fair Representation Act improves representation, while the John R. Lewis Voting Rights Advancement Act makes voting practices fairer.
Campaign Finance:
Transparency and Reduced Dark Money Influence: The DISCLOSE Act and the Freedom to Vote Act aim for transparent campaign finances and reduced dark money influence.
Voting:
Access, Fairness, and Representation: The Freedom to Vote Act and the John R. Lewis Voting Rights Advancement Act improve voter access and fairness. The Fair Representation Act aims for more proportional representation.
Conclusion
The journey towards 'one person, one vote' is a meticulous process, interwoven with legislative actions aimed at eradicating the barriers to equal representation.
As these bills inch closer to becoming laws, so does the nation move nearer to the quintessence of democratic equality: 'one person, one vote.'
Bibliography