Comprehensive Snapshot: America's Gun Crisis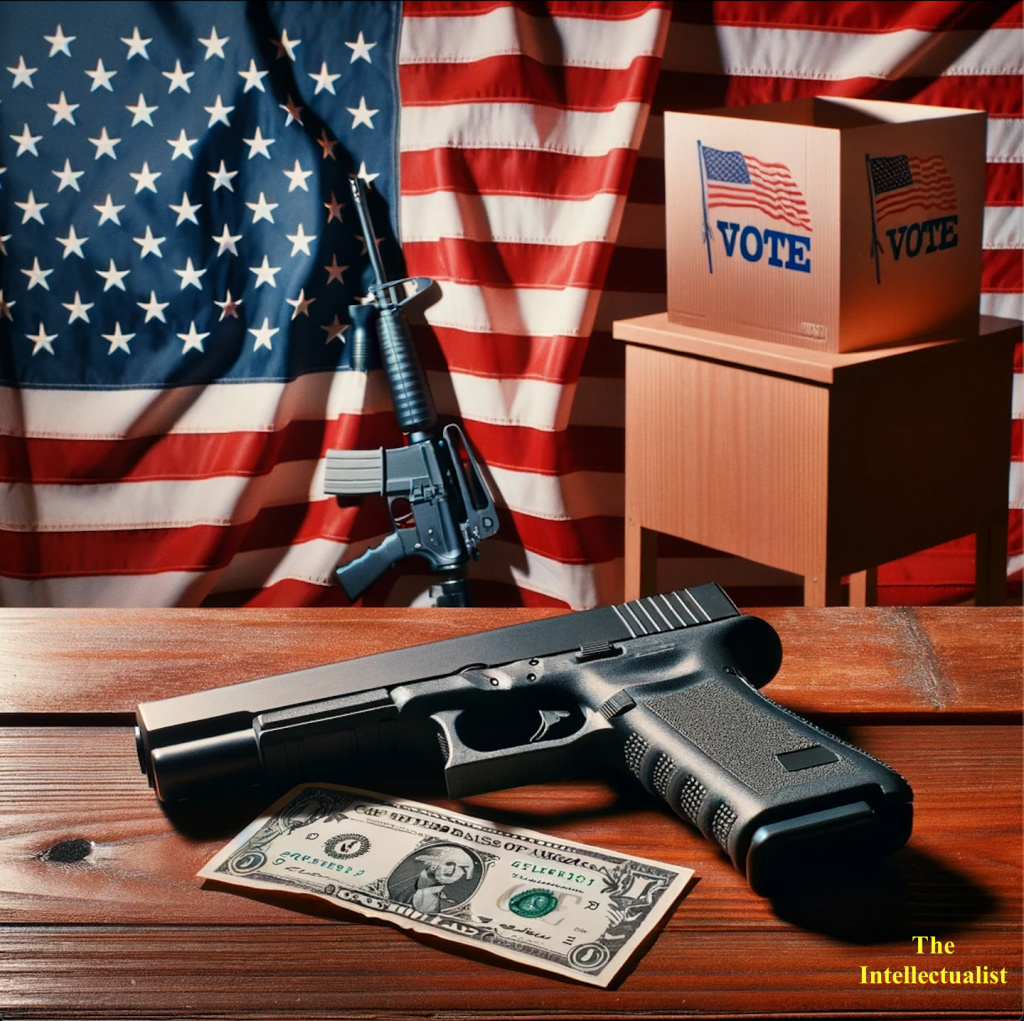 The Stark Reality
U.S. has 393 million civilian-owned guns, more than the population.
In 2019, there were 39,707 gun-related deaths.
The U.S. ranks 20th worldwide in firearm mortality rates.
Along with five South American countries, the U.S. accounts for half of the world's firearm deaths.
The Misleading Narrative: Mental Illness
Often blamed for gun violence by politicians and media.
Data shows only 4% of gun violence incidents can be attributed to mental illness.
Persons with mental illness are more often victims rather than perpetrators.
Public Opinion vs. Policy
64% of Americans favor stricter gun control.
Despite public opinion, lenient federal and state laws create loopholes in gun sales.
A disconnect exists between public sentiment and actual policy due to factors like gerrymandering and special interest groups.
The Silent Catalyst: Income Inequality
The top 1% of Americans hold about 31% of the nation's wealth.
Stark economic and racial disparities exist.
Direct link between income inequality and higher rates of violent crime, including gun violence.
Democratic Erosion: The Systemic Barrier
Signs include gerrymandering, voter ID laws, and an undemocratic Senate.
Affects gun control policy despite majority public opinion favoring stricter measures.
The Fallacy of Focusing on Mental Illness
Diverts resources from more accurate indicators of gun violence.
Stigmatizes mental health and prevents substantive discussion and action.
Additional Context
60% of gun-related deaths in the U.S. in 2017 were suicides.
The U.S. has witnessed a rising number of mass shootings; the BBC reported a significant increase in the year 2023.
The U.S. spends more on health costs related to gun violence compared to other countries.
The Senate, where each state gets two Senators regardless of population, hampers gun control legislation.
5 of the current 9 Supreme Court justices were appointed by Presidents who lost the popular vote, affecting gun control measures.
Conclusion: Urgent Need for a Multi-Pronged Approach
A gap exists between public sentiment and enacted policies.
Income inequality and democratic erosion play significant roles.
A nuanced, multi-pronged strategy is imperative for effectively tackling America's gun violence crisis.
Bibliography:
"Addressing the Twin Challenges of Inequality and Violence," Penn Institute for Urban Research, January 28, 2020. https://penniur.upenn.edu/publications/addressing-the-twin-challenges-of-inequality-and-violence.
"CNN Poll: Most Americans want stricter gun control, but they're divided on whether guns make public places safer," CNN, Updated May 26, 2023. https://www.cnn.com/2023/05/26/politics/cnn-poll-gun-laws/index.html.
"Child and Teen Firearm Mortality in the U.S. and Peer Countries," Kaiser Family Foundation, Published July 18, 2023. https://www.kff.org/mental-health/issue-brief/child-and-teen-firearm-mortality-in-the-u-s-and-peer-countries/.
"Explainer: More guns than people: Why tighter U.S. firearms laws are unlikely," Reuters, April 14, 2021.
"Gun Deaths, Violence and Mental Health," Mental Health America, 2023. https://www.mhanational.org/gun-deaths-violence-and-mental-health.
"Gun Violence is a public health crisis," The American Public Health Association. https://www.apha.org/-/media/Files/PDF/factsheets/200221_Gun_Violence_Fact_Sheet.ashx.
"How Many Guns Are Circulating in the U.S.?" The Trace, March 6, 2023, Updated August 28, 2023. https://www.thetrace.org/2023/03/guns-america-data-atf-total/.
"How many US mass shootings have there been in 2023?" BBC News, October 26, 2023. https://www.bbc.com/news/world-us-canada-41488081.
"INEQUALITY AND VIOLENT CRIME," The Journal of Law and Economics, April 2002. https://www.researchgate.net/publication/2523129Inequality.
"Key facts about Americans and guns," Pew Research Center, September 13, 2023. https://www.pewresearch.org/short-reads/2023/09/13/key-facts-about-americans-and-guns/.
"Stanford historian uncovers a grim correlation between violence and inequality over the millennia," Stanford News, January 24, 2017. https://news.stanford.edu/2017/01/24/stanford-historian-uncovers-grim-correlation-violence-inequality-millennia/.
"The Health Costs of Gun Violence: How the U.S. Compares to Other Countries," The Commonwealth Fund, April 20, 2023. https://www.commonwealthfund.org/publications/2023/apr/health-costs-gun-violence-how-us-compares-other-countries.
"The Top 1% of Americans Have Taken $50 Trillion From the Bottom 90%—And That's Made the U.S. Less Secure," Time Magazine, September 14, 2020. https://time.com/5888024/50-trillion-income-inequality-america/.
"U.S. Gun Policy: Global Comparisons," Council on Foreign Relations, Last updated June 10, 2022. https://www.cfr.org/backgrounder/us-gun-policy-global-comparisons.
"U.S. Remains an Outlier in Firearm Possession, Gun-Related Deaths," U.S. News & World Report, January 30, 2023. https://www.usnews.com/news/best-countries/articles/2023-01-30/how-the-u-s-compares-to-the-world-on-guns.
"What the data says about gun deaths in the U.S.," Pew Research Center, April 26, 2023. https://www.pewresearch.org/short-reads/2023/04/26/what-the-data-says-about-gun-deaths-in-the-u-s/.
"Why do inequality and deprivation produce high crime and low trust?" Scientific Reports, Published January 21, 2021. https://www.nature.com/articles/s41598-020-80897-8.
"Why is Violence More Common Where Inequality is Greater?" Annals of the New York Academy of Sciences, 1036(1), January 2005, 1-12. DOI:10.1196/annals.1330.001. Source: PubMed.
"5 alarming stats on U.S. economic inequality in Pulitzer Prize-winning author's new book," CNBC, Published March 28, 2023. https://www.cnbc.com/2023/03/28/5-alarming-stats-on-us-economic-inequality.html.
"America's unique, enduring gun problem, explained," Vox, Updated October 26, 2023. https://www.vox.com/23142734/lewiston-maine-mass-shooting.